Hey everyone!
I have some exciting and awesome news this week! I've been working hard behind the scenes over the past few weeks to convert what started out as a simple template I used for my own business into something for this awesome community that is growing every day.
​
I was sick of using spreadsheets 😕 that were visually unappealing
I had no way of tracking all of my property deals in a pipeline without paying for stupidly expensive CRM 🤯
Analysing deals took time ⌚ and was clunky keeping track of everything
​
So I created something that I think is a million times better than some old crappy spreadsheet, something that's visual, efficient and highly customisable and most importantly... easy to use.
​
​
📦 Property Deal Analyser
Property Deal Analyser allows you to track, analyse and manage your property deals like a pro.
Everything is customisable which makes this so unique - every business is different so you can tailor it exactly to your needs.
Notion
is super easy to use and free to download.
​
I use this every day for my business, it's tried and tested and hasn't let me down so far. I'm always continually improving it to make it better and add richer features.
​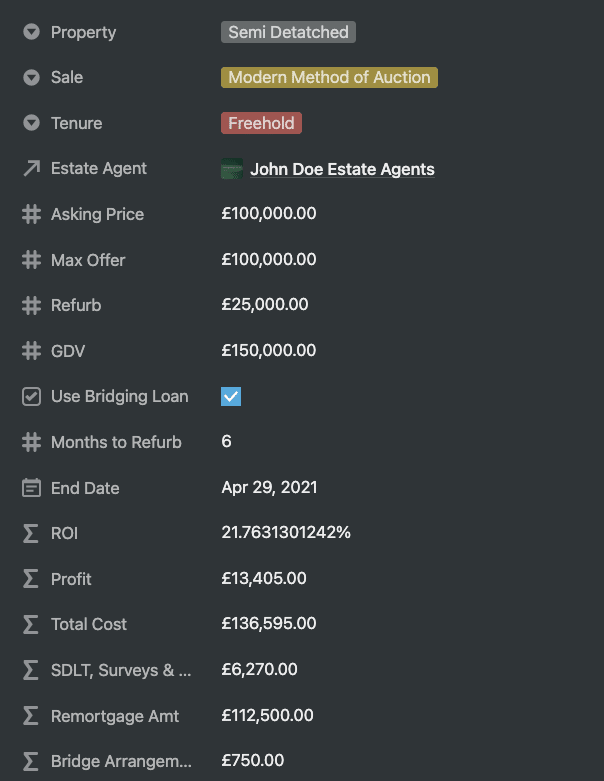 ​
What can you do?
⌚ Instantly calculate ROI, Yield, Money In, Profit, Money Out

👁️ Visually view a pipeline of property deals

🎯 Focus on your habits and goals to push your business

🏃‍♂️ Improve your business efficiency

📱 Syncs across Desktop, Tablet & Mobile (Via Notion)

☁️ Fully cloud based
​
The Property Deal Analyser allows you to combine everything into one single place.
It's a bit like Todoist, Google Docs, Asana and Trello all combined into one single place. No expensive CRM systems. No recurring expenses.
​
I've put a lot of love into building this - so if you fancy checking it out then you can view by heading to
​wtfpropertyinvesting.com/property-deal-analyser​
​
If you want to see it in action - I filmed part of it in this video when looking at auction properties where I used the Property Deal Analyser during a live auction as the bidding happened.
​