Hello everyone! 👋
​
​In my last newsletter update I mentioned that I was pausing on the property front until COVID restrictions eased off. Well... as the world opened back up again I spent a few days back up north with family and viewing lots of properties.
I took 3 days off work to spend some solid days analysing and viewing properties and the great news... AN OFFER WAS ACCEPTED!
I can't share too much yet, purely out of fear of being gazumped in this incredibly hot market but here's the headline figures, I really can't wait to share this with you all in more detail soon across YouTube, this newsletter and Instagram.
The property is a semi detatched that needs a light refurb, with the market being super crazy still... I lowered my ROI to about 20% rather than chasing a magical 30% ROI deal that just doesn't exist in the lower end of the market right now which is what I'm aiming at.
​
​Purchase Price: £106,000​
Refurb: £9000​
Total Money In: £41,950​
GDV: £130,000​
Day 1 Profit: £8500​
ROI: 20%
It's not the most jaw dropping deal in the world, but I'm really happy with it as a first, it's felt quite unfortunate getting into property during one of the 'hottest markets people have ever seen' so opportunity cost was on my mind... A LOT. Would I rather spend 6 more months chasing an extra 10% on the ROI or benefit from 6 months rental income?
​
I'm buying the property using a standard BTL mortgage as the refurb is small I decided to fund it myself and tie up the funds for 2 years, rather than bridging and refinancing. It's a great house round the corner from 2 primary schools and 1 secondary school in a family area so has great rental potential.
​
Hopefully nothing goes wrong in conveyancing and once completed - I will document the refurb and the process to share with you all.
​
🏡 The World of Property
In a nutshell, it's still crap out there for buyers.
Here's the latest industry view, Demand has actually increased further from 27.5% to 28.6% YTD versus last year while stock of homes for sale has decreased further from -18.4% to -20.8% lower YTD versus last year.
However - there's one positive movement, the flow of new supply has improved from -6.1% to -1.9% meaning more homes are coming on the market as lockdown restrictions ease. This is an early indicator that the market might cool off now we're (hopefully) towards the end of lockdowns!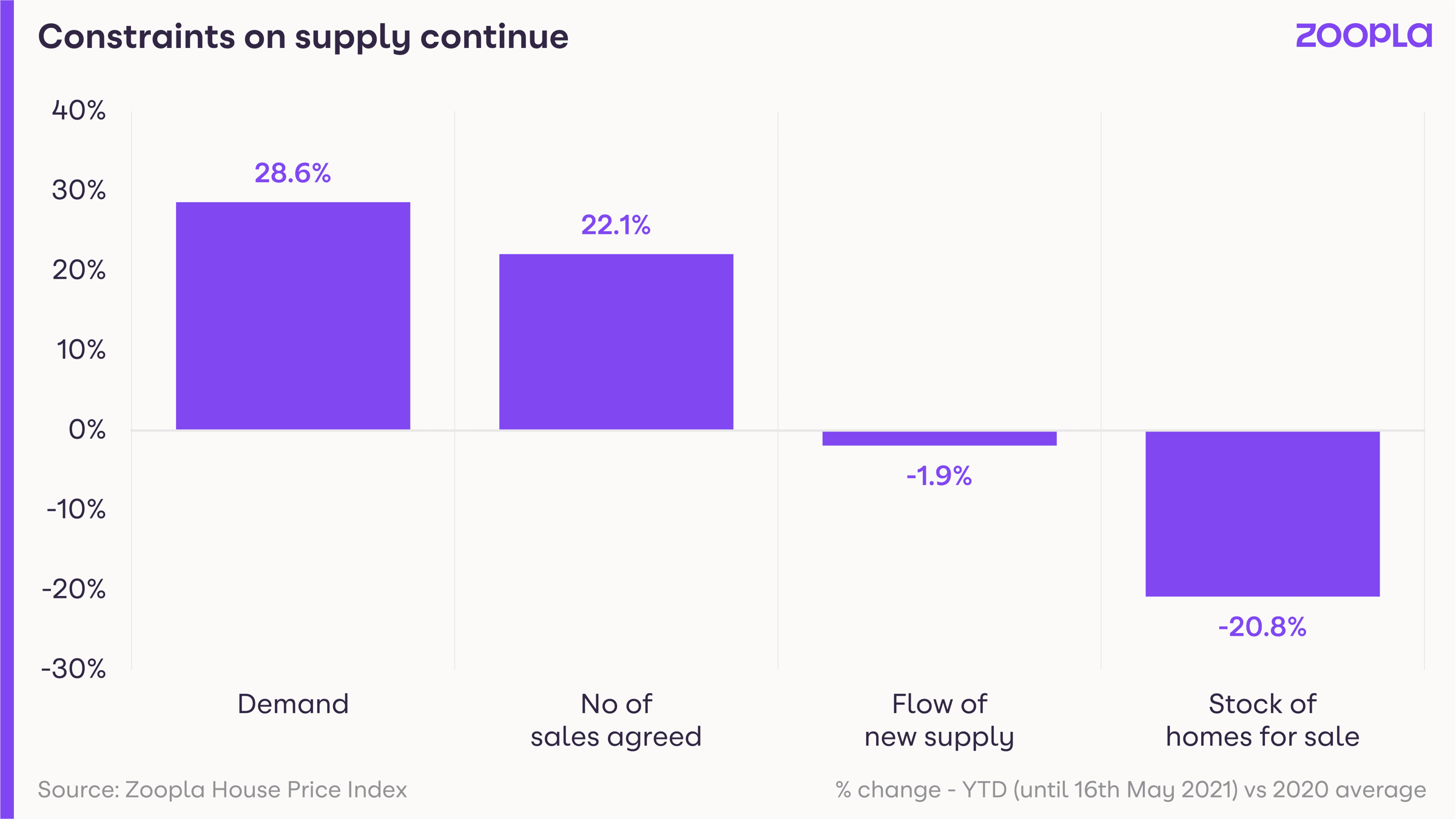 I've also attached the latest property sentiment tracker, you can see after the usual seasonal dip, as we go into the blue and orange sections, sellers, buyers and renters are all calmong down, there's still a large gap between the number of buyers and number of sellers but it's trending down so again... more positive signs to start looking for deals!
​
📦 Property Deal Analyser
If you're still using spreadsheets to manage your property business, I recently launched my Property Deal Analyser using the incredible free Notion software. It's a super handy way to analyse property deals, visually manage a board of property deals, analyse ROI, Yield, Profits and it's completely customisable.
​
I've had lots of great feedback so far and people are finding it useful and also fully implementing it into their businesses which is amazing.
​
I recently had a great zoom call with Mo who kindly provided a testimonial of how he's implemented it into his business! I've also been using it to help secure my first deal!
📽️ Latest Videos
​We're over 20,000 strong on YouTube (feel free to subscribe!). What an incredible thing!
​
It's been a CRAZY few weeks, but the channel exploded thanks to a few crypto and personal finance videos and I went from 2k to 20k subscribers which is awesome! For the purpose of this newsletter however, I'll only be attaching property related videos, however I do have other videos on the channel if you want to check them out!
​
​How To Find Below Market Value Properties
​
My Buy To Let Property Investing Plan (In 2020)
​
Feel free to check them out!
​
As always, if you have any questions, thoughts or feedback then hit reply to this email and I'll happily get back to you.
​
Matt