18 | The 2021 Market is Still Bonkers!
​
Hello everyone! 👋
​
​My property plans are still on hold a bit, I spent the christmas period viewing lots of properties but I saw so many awesome flip / BRRR projects sell for silly prices where they'd either sell for a break even or in most cases, a loss! Are you experiencing the same?
​
I did think it was me for a while but after flicking through the property community on Instagram - it was clear that I'm not the only one having a hard time with a hot market.
​
That combined with lockdowns has gotten in the way of the property plans. Once things are lifted from 17th May it will make it easier for me to spend some time back up north in my hometown area around South Yorkshire.
​
​But... I'm pivoting my plan.
​
​Clearly the flip market is too hot, lots of people are sat on spare cash and paying above a property's worth. So, even though I'll keep an eye out for possible flips when I start heading up weekly to the North, I'm changing my strategy a bit.
​
​When times are tough or the market is hot - you need to think creatively.
​
​My thinking is that everyone, or most people in the <£100k range are looking for properties with old carpets, bathrooms, kitchens hence those properties having 10+ offers, there's no room for a good deal. But the problem is - the average newbie investor doesn't run any figures, hence these properties selling for what would be a loss after the refurb.
​
So I'm going to focus on done up properties as they're at least worth their value! But look for certain properties where I can alter the upstairs layout to add an extra bedroom.
​
I spotted a great property with 2 windows in an upstairs bedroom that was the full width of the house and it would be so simple to add in a stud wall in the middle and create a third bedroom adding additional value to the house without having to refurb it all. And also should be less competetive as normal investors will be looking for the worn down properties so would look past this kind of house.
​
As usual - I'll keep you updated. But the plan is to try and get hold of 2 of these this year and wait out the hot market, I'd rather just bite the bullet for a more simpler BTL and spend time in the market, rather than holding out for a flip deal.
​
🏡 The World of Property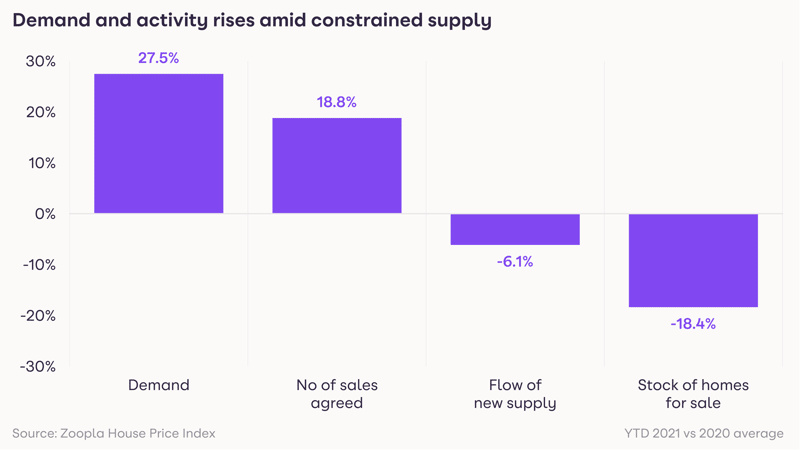 ​
Buyer demand hits new highs but set to moderate as lockdowns ease across the country

High sales volumes are eroding the supply of homes for sale, with stock levels down nearly 30% in April this year compared to the same period in 2017-2019

The demand/supply imbalance is increasingly focused on family houses

Annual house price moderates to +4.0% in March, with the strongest price growth in Wales (5.9%) and Yorkshire and the Humber (+5.3%)
​
📦 Property Deal Analyser
In case you missed it - I launched my new Property Deal Analyser using the incredible free Notion software. It's a super handy way to analyse property deals, visually manage a board of property deals, analyse ROI, Yield, Profits and it's completely customisable.
​
I've had lots of great feedback so far and people are finding it useful and also fully implementing it into their businesses which is amazing.
​
📽️ Latest Videos
​We're over 1900 strong on YouTube (feel free to subscribe!). What an incredible thing! I never quite knew where things would go but I'm super happy that people are finding the content useful!
​
As usual - here's loads of free property content packed with value!
​
​How I analyse BRR Property Deals
​
Property viewing tips & how to cost up a flip project
​
BRR - Buy, Refurb, Refinance Explained
​
Feel free to check it out!
​
As always, if you have any questions, thoughts or feedback then hit reply to this email and I'll happily get back to you.
​
Matt